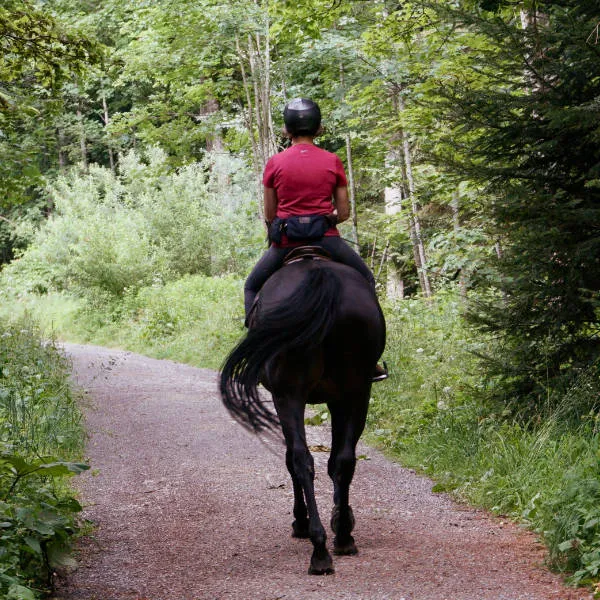 Riding To Connect
Riding is complex and challenging. As a Member of Riding To Connect Program, you will be able to follow systematic steps that break the learning down into doable pieces.
You'll improve your riding skills "from within". You'll understand the movement, make it easier and more graceful. It will make you feel safer in the saddle and truly connected with your horse.
Each month of your membership is going to have a primary topic. The following specific subjects are among the topics:
The 4 Basics
Breathing, Centering, Balance, Soft Eyes – become more balanced and safer in the saddle.
The Art of the Connected Seat
Get in sync with your horse's movement for a subtle communication with your seat. You won't need your reins as much.
Symmetry of the Rider
Become a well-balanced rider that your horse enjoys carrying.
Symmetry of the Horse
Get your horse into a good balance to keep him happy and healthy.
Contact with the Horse's Mouth
Find a soft contact with your horse's mouth that creates real connection between the two of you.
Half Halts and Transitions
Improve your horse's self-carriage for more ease and beauty in your riding.
Two (2) interactive Group Coaching Calls per month to:
dive into the topic of the month that will not only change your riding but help you in every day life to stay centered, grounded, and connected,
learn how to meditate with and without your horse to deepen your connection,
get all your questions answered, so you will have clarity on what to do next.
Membership portal with videos, audio riding lessons, and cheat sheets that help you deepen the experience.
Private Facebook Group – connect with like-minded people and get your questions answered.
Choose the option that works best for you.
Riding To Connect Bronze: $195 one-time payment
Riding To Connect Bronze and Silver: $345 one-time payment
Riding To Connect Bronze VIP: $440 one-time payment
Program Language:
English
Start of the Program:
New Riding To Connect Programs are starting frequently throughout the year. You will find the next start always here in my events calendar.