Gift Certificate 03 - Front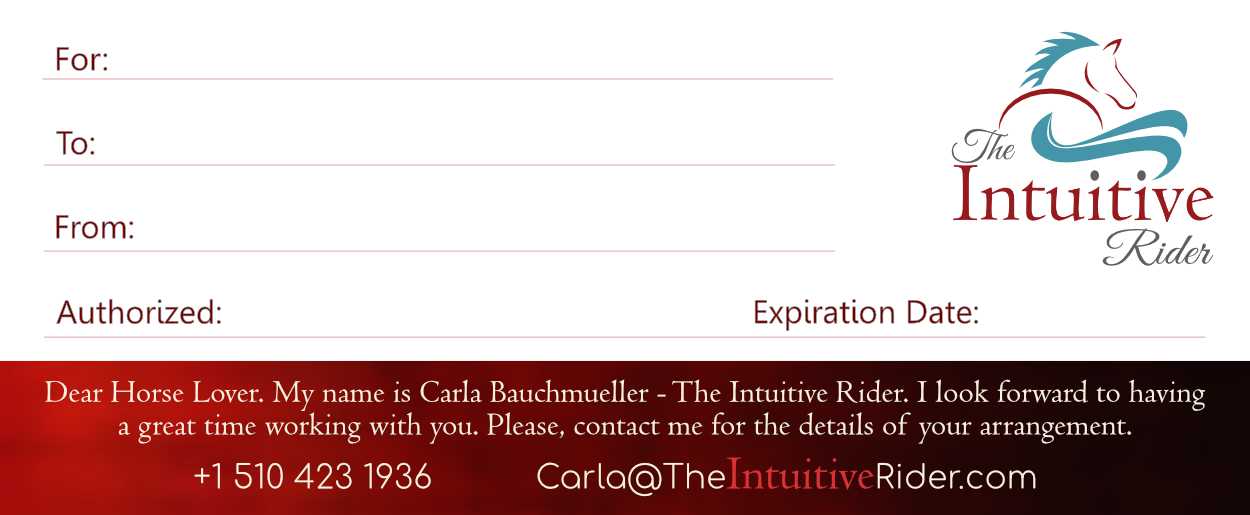 Gift Certificate 03 - Back
Information
Dear Customer. By submitting the form you order a voucher for services from The Intuitive Rider, which you can give to a loved one to make them happy.
You have two options for giving:
1. You are gifting participation in a selected The Intuitive Rider program/event; Details can be found on the "Work with Carla" page. Please note that dates for programs that have not yet been published cannot be guaranteed. However, given away programs can be exchanged in consultation with Carla.
2. You select an amount between $25 and $1,000 for the gift recipient to use for any  The Intuitive Rider programs as they wish.
The name of the program or the amount is stated in the voucher. Appointments and registrations are coordinated directly with the voucher recipient.
Please enter your own name and the name of the recipient. Both will be inserted in the voucher, as well as the authentication by Carla and the expiry date of the voucher.
The voucher will be individually prepared by us after receipt of your payment and sent to you as a digital voucher by email or printed in high quality by post. Please allow a processing time of up to 3 days and the usual transit times for postal delivery.
A voucher is valid 1 year from the date of issue. Reimbursement or cash payment of the voucher value are generally excluded.
 Team Carla
more Gift Certificates for Horse People